Upcoming and Unique @ RWC
Riversong presents: Jubilee Gang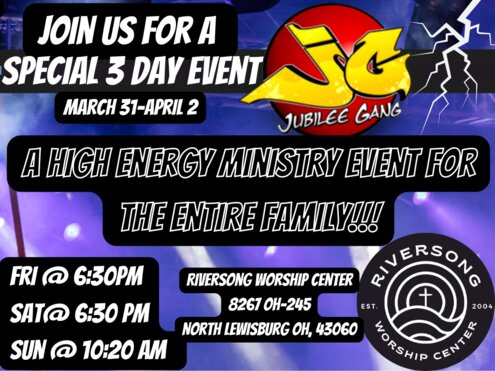 Do you have family or friends that need to hear the message of Jesus but it is hard to get them to come to a standard church service? This is your chance to bring them out to an exciting, action packed presentation that will be sure to leave a mark!!! Jubilee Gang provides a unique way of making the gospel message fun and entertaining without compromising on the Biblical truths and message. All are invited to join us for this special 3 day event and all are encouraged to bring a family member or friend!!
Interested in learning more about upcoming events at Riversong?
Visit us on our facebook page for up to date event info and details.
Click Here
RWC Ladies Movie & Comedy Night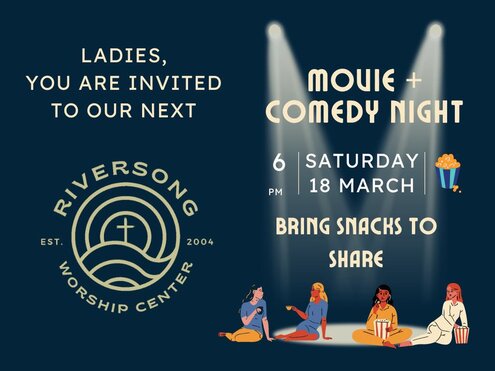 Ladies, come join us for a night of fellowship and fun!!
Fire and Glory Service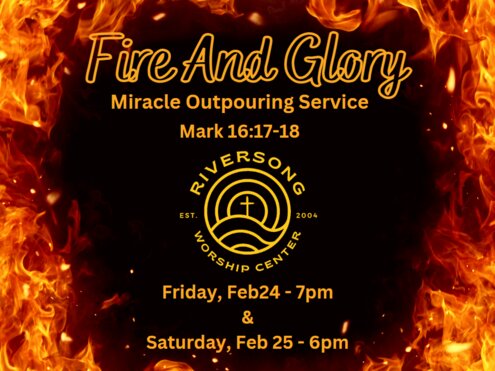 Do you have something in your life that seems impossible to get past? Come out to this special 2 day service and see what the God we serve can do for you!!
RWC Couples Dinner
A night of dinner, special guest speakers, and games with a focus on the Lord!!! Registration is open at the back of the sanctuary. Sign up and join us for a powerful night that you will be sure to remember!!
RWC Christmas Eve Service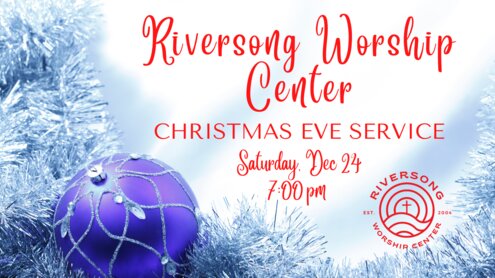 Come celebrate Christmas Eve with us. Enjoy some praise and worship along with a special communion service to celebrate the birth of our Savior!
2nd Annual Riversong Family Thanksgiving!!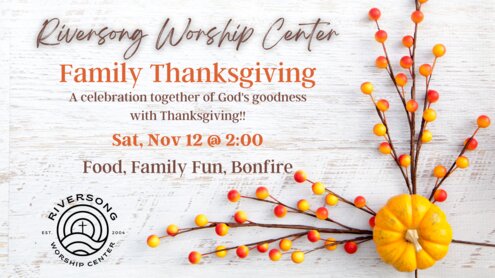 A celebration of God's goodness together with Thanksgiving!! "Give thanks to the Lord and proclaim his greatness. Let the whole world know what he has done. Sing to him; yes, sing his praises. Tell everyone about his wonderful deeds." 1 Chronicles 16:8-9 (NLT)
RWC Refuge Service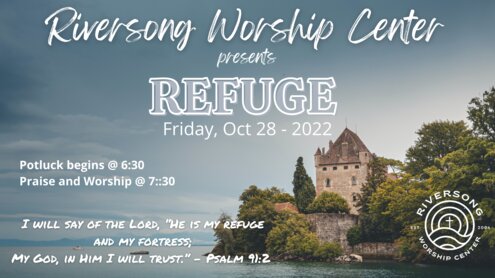 Come enjoy a night of Refuge in the Lord beginning with a potluck dinner @ 6:30pm and ending in a praise in worship service designed to just seek His presence!!
RISE Youth Fall Retreat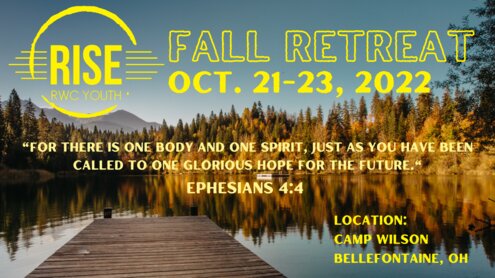 RISE Youth Fall Retreat - RISE Youth Group will be headed to Camp Wilson in Bellefontaine, OH on October 21-23. This will be a weekend filled with praise and worship, teaching, team building excercises as well as games. We will plan on leaving Friday afternoon and we will be back on Sunday morning in time for service. More details to come.....
RISE Youth Spaghetti Dinner Fundraiser

RISE Youth Spaghetti Dinner Fundraiser - Sat, Oct 1 - Come out and be served dinner by our Youth!! All proceeds from this fundraiser will go towards helping to cover the cost of the RISE Youth Fall Retreat. Please come out and partner with us in sharing the gospel with our teens!!!
RWC Men's Breakfast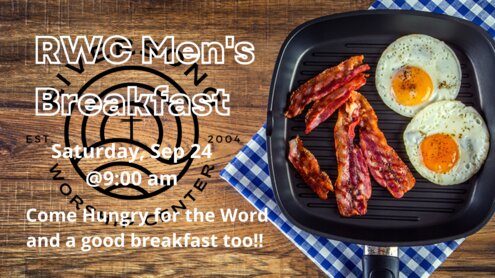 All Men and male teens invited. Come hungry for the Word and a good breakfast too!!
RWC Movie Night & Hot Dog Contest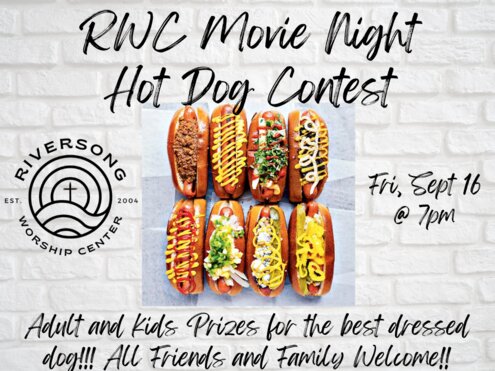 Bring the family out for Riversongs Outdoor Movie Night!! Dinner will be served @ 7pm and will include a Best Dressed Dog contest for kids and adults alike. A faith/family friendly movie and bonfire will start at dark. All friends, family, and community welcome!!
Riversong Family Picnic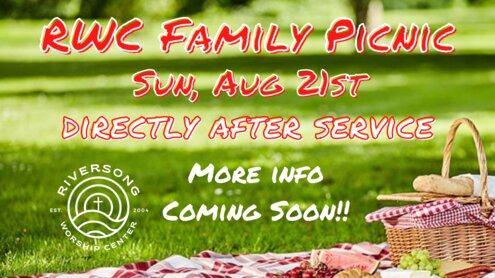 Prayer Walk at Triad High School
Sunday, August 14 @ 5:30pm
Riversong Worship Center will be taking part in the prayer walk at Triad High School on Sunday, August 14 @ 5:30pm. Those wanting to participate in the prayer walk should meet Rob Snyder in the High School parking lot at roughly 5:15pm.
The walk will begin with a corporate prayer with all of the attending churches represented. After the corporate prayer, each church group will break off and walk to and pray over all of the different buildings. The prayer walk will conclude with another corporate prayer in the main parking lot after all of the groups have finished their walk.
RISE Youth Bake Sale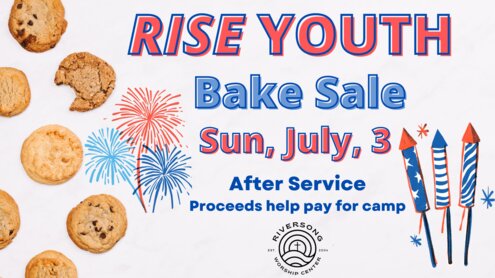 Hey Church, RISE Youth will be holding a bake sale fundraiser on Sunday, July 3rd directly after service!! All funds raised will go towards helping to make Impact Summer Camp cost free to our teens and their families. This will be a good opportunity to buy baked goods for your 4th of July outings and partner with the Lord in ministering to our youth at the same time!!
RWC Men's Event Sat, June 18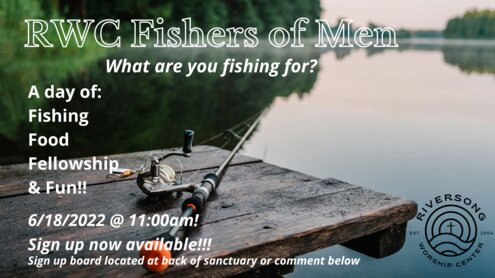 Men and high school age boys, mark your calendars for a day of fishing, food, fellowship, and God's Word on Sat June, 18.
Sign up available at the back of sanctuary.


RWC Women's Luncheon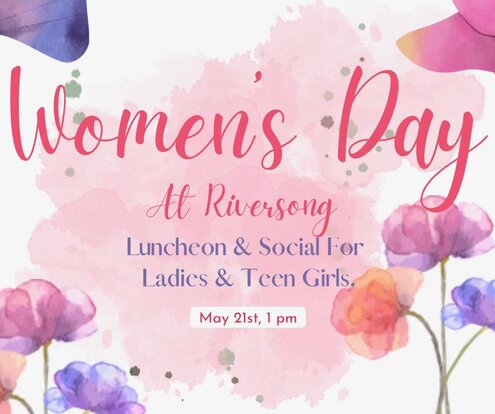 Saturday May, 21st @ 1pm will be a Women's Luncheon/Social at the church. All women and teens invited!
Rise Youth Fundraiser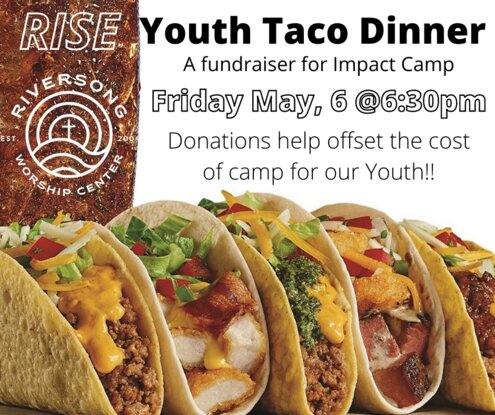 RISE Youth is holding a donation fundraiser on Friday, May 6 @ 6:30pm. Dinner will be held at the church and all are invited to come out support our teens!
Donations are welcomed and 100% of the donations will go to RISE Youth group to help lower the cost of Impact Camp for all of our Youth!
RWC Women's Shopping Trip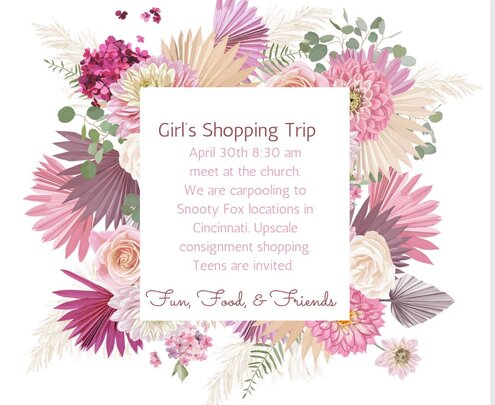 Contact Robin Henry for more details
Want to learn more about Passover?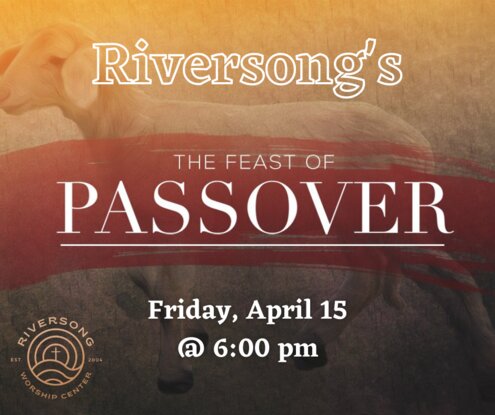 We will be teaching on what the Passover Feast looked like and what was symbolized in it during our Wednesday night Bible studies leading up to Passover and followed by a Passover Feast on Friday, April 15 @ 6pm.


Come Join us and learn about Passover and the implications it has for us today!!
Special guest speaker Steve Cartwright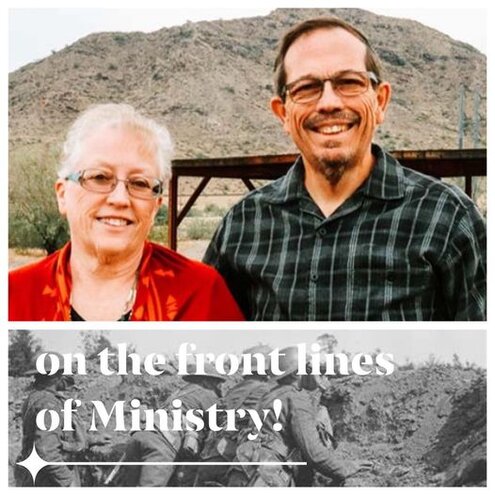 Upcoming: Wednesday, April 30 Steve Cartwright will be joining us and leading service! Steve is one of the missionaries we support and is on the front line of ministry working on the Indian reservations. Come out and support him and hear how God has been moving in the Cartwrights ministry!
Riversong 2022 Partnership Class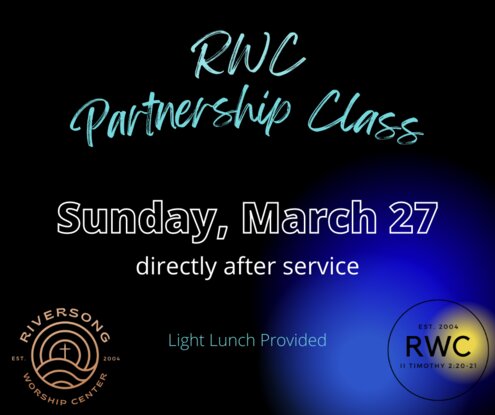 Whether you are new to Riversong or a long time member already serving in some way, we would like to invite you to our 2022 Partnership Class. Come learn what it means to partner with us in the ministry as well as what is new for 2022!
Class will begin directly after service on Sun, March 27. A light lunch will be provided for those that attend!
What is Purim? How does it relate to the story of Esther and Mordecai?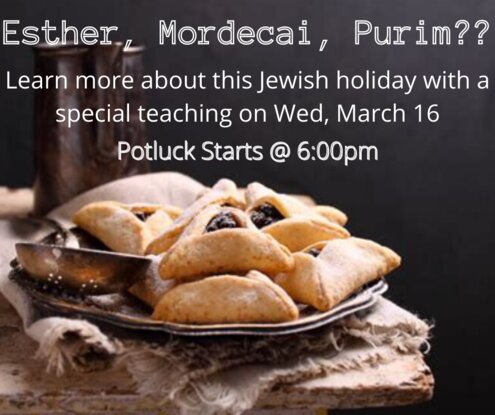 Come join us on Wednesday, March 16 @ 6:00pm. The evening will start with a potluck followed by a special teaching on the Jewish feast of Purim.
Esther 9:23-26: 23 So the Jews accepted Mordecai's proposal and adopted this annual custom. 24 Haman son of Hammedatha the Agagite, the enemy of the Jews, had plotted to crush and destroy them on the date determined by casting lots (the lots were called purim). 25 But when Esther came before the king, he issued a decree causing Haman's evil plot to backfire, and Haman and his sons were impaled on a sharpened pole. 26 That is why this celebration is called Purim, because it is the ancient word for casting lots.
Fire and Glory Service - Feb 25 & 26, 2022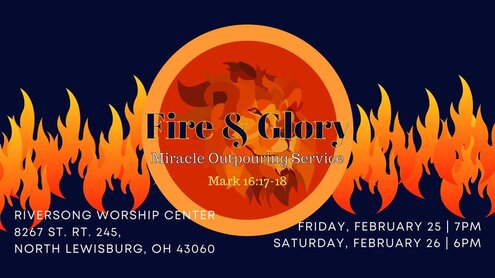 Guess Who's Coming to Dinner?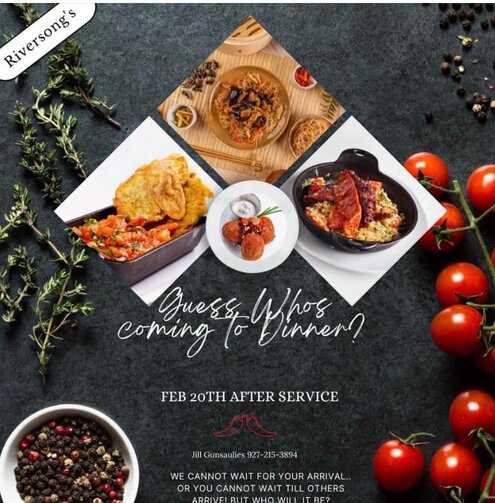 Hosts are having someone over for dinner and guests are going to someones house. But who will it be? Sun, Feb 20 is the day that all of those that signed up will find out and enjoy this fun way to get to know one another better!!
Youth Bake Sale - All proceeds go towards Impact Summer Camp Feb 13, 2022 directly after service